Jackie Marchant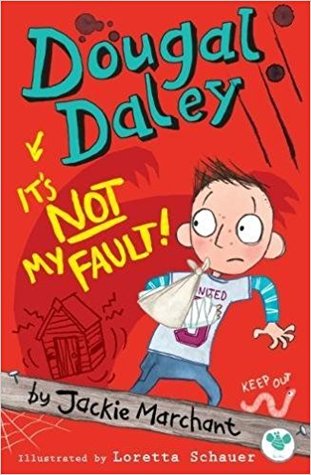 I, Dougal Daley, am dead! Ok I m not actually dead. But if I m not careful I soon will be.

In this first book, football-loving Dougal Daley finds himself at risk from the mysterious creature living in the garden shed. Nobody believes him but as a precaution, he sets upon writing his will – rewarding those who help him and disinheriting those who get on his bad side. Meanwhile, as limbs and windows alike are broken by rogue footballs and unhinged canines, Dougal finds himself in all sorts of trouble. . .and NONE of it is his fault!
What were your initial thoughts on the book?
I read this book in one sitting. It was funny, addictive and emotional too. I really felt for Dougal throughout the story. The whole narrative worked really well and I am one hundred percent sure that any kid who reads this book will also agree. From parents and sisters who don't listen to you and blame you, to friends who get caught in the middle of things, this book is full of real-life situations surrounding a very hilarious thing. I loved the ending of the book too. This whole book is full of personality and I cannot wait to read the next one!
Who was your favourite character and why?
The best character is actually one that I can't really talk about without completely and utterly ruining the story – I know, right? – So instead I will talk about my second favourite character; Dougal. He's a really interesting character to read about. A true klutz who has a great voice too. I am definitely intrigued to see what happens to him in future books!
Would you recommend this book?
Definitely! Especially to any kid aged between 6 to 10 as they'll really enjoy everything that happens. The book is written in a diary format with a few chapters that are notes from other characters all intermingled with amazing illustrations which really helps to make this book readable, addictive and fun – everything that books for children should be! If you or your child is looking for a fun and funny book that is similar to the Wimpy Kid books, make sure you give this book a try!
One Sentence Summary (verdict)
A really fun and kid friendly book that has a brilliant main character and a story that is full of personality and creativity.
Reviewed by Faye
Laura Wood


From the Winner of the Scholastic Montegrappa Prize for New Children's Writing It's Halloween at Saint Smithen's. When the Brimwell town hall burns down, the amateur production of Macbeth is moved to the school and it's all hands on deck. But when the play is struck by a series of mysterious attacks, it's up to Poppy, her friends and her circus family to save the play and unmask the culprit.
Five Reasons to Read this Series
Poppy Pym
All I can really say about Poppy is that she is an incredible character that I really love. She's got an amazing spirit, she's quirky and interesting and the kind of girl that I would have loved to have been friends with at eleven. She is a brilliant character to read about and definitely makes the series great fun to read!
Ingrid & Kip
Poppy's new-found friends at boarding school, these two characters help form a strong trio in the books that is wonderful to read about. It helps show how amazing and powerful friendship can be and also how important it is too. I love Ingrid's dreamy personality and Kip's love of adventure. They definitely make this series more interesting.
The Circus Family
One of the main things I absolutely loved about Poppy Pym was the circus family. They all have unique personalities and as a whole make a very dysfunctional family unit but their love for Poppy is incredibly strong. I also love that this book shows adoption in a positive light whereas Poppy is very fortunate with all the love she gets from her adoptive circus family.
The Mystery
In both books in this series there is a mystery to be solved and I loved reading it through with Poppy as we try to work out what is going on. I'm a sucker for mystery books anyway but in Poppy Pym, the mysterious are so intriguing and really keep you glued to the page from beginning to end. I also love that there was also so much more to these stories than just the mysteries to be solved too!
The Writing Style
Lastly, but certainly not least, I absolutely fell in love with the writing style of these books. It was addictive and fun all at the same time. I devoured the words on the page quickly and fiercely. The writing really pulls you into Poppy's world and is full of quirky and interesting descriptions of the world as Poppy sees it. It's fun for both adults and children and I can really see children falling head over heels for these books!
Posted by Faye
We are delighted to welcome Paula Harrison, author of Robyn Silver: The Midnight Chimes.

Life was very ordinary for ten-year-old Robyn Silver. The often-ignored middle child in a big family, the most excitement she had was the dash to the dinner table to reach the last slice of pizza. Until… she begins to see creepy creatures around her town – creatures that are invisible to everyone else. And when her school is forced to decamp to mysterious Grimdean House and she meets its equally mysterious owner, Mr Cryptorum, Robyn finds herself catapulted headfirst into an extraordinary adventure – with more excitement than she could possibly have imagined. Be careful what you wish for…
Robyn Silver sounds like a really fun and adventurous character, how did you come up with her and what is your favourite aspect of her personality?
I wanted to write about a girl who thinks she's nothing special – someone who doesn't have any particular skills or talents. Then she's put in an extraordinary situation and she finds out she has tonnes of grit and determination. That's my favourite thing about her.
Where is your favourite place to write your books?
It would be so awesome to say a little house by the sea! I love the coast but I live nowhere near it. I write at my computer in my dining room. It's near the kettle which is important.
What is your favourite part of being a Children's author?
Meeting readers! It's so much fun to talk about books to children. I used to be a teacher so I did this even before I changed profession. Seeing my story brought to life inside a fantastic book jacket is amazing too.
Do you plot your novels or just see where they take you?
I plot them but once I start writing that plan often goes out the window. That's OK though. It's important to listen to where the characters are taking you – as long as the characters are being true to themselves you won't go wrong.
Why do you think books for children are important?
They're part of the process of learning about the world and literally growing an imagination. Also, to put my teacher hat back on, research shows that children who read for pleasure do better in all subjects at school including maths. I wish there was even more of a drive to get children reading. I know there's great work going on but I'd love to see a big government backed drive that would recognise the power of reading to benefit children's futures.
If you had to face one of the supernatural creatures in Robyn Silver, which would you prefer to face?
Oh tricky! A kobold would be the least dangerous but they look like a goblin crossed with a porcupine and they have a very nasty temper.
Do you possess any of the same personality traits as Robyn Silver?
I'm persistent to the point of being down-right obstinate. I'm not sure how endearing this is! I'll ask my husband.
If you had to describe your book in a tweet (140 characters) what would you say?
Born on the stroke of midnight, Robyn Silver is drawn into a world of monsters. Luckily she has friends and a hidden talent at sword fighting
Interview questions by Faye
Paula Harrison is a best-selling children's author, with worldwide sales of over one million copies. Her books include The Rescue Princesses series. She wanted to be a writer from a young age but spent many happy years being a primary school teacher first. you can learn more about Paula and her work by visiting her Website (here) or her Twitter account (here).
Five Fabulous Books is an original feature here at Big Book Little Book. The aim of the feature is to showcase fabulous books and bookish things, with connecting themes, there by promoting reads we have enjoyed and sharing recommendations for similar books. We love to share contributions from fellow bibliophiles, bloggers, vloggers and twitter users. We love to hear from you too, so don't forget to comment with your favourite themed books. You are very welcome to use the Five Fabulous feature on your own blog just be sure to link back to Big Book Little Book and leave your link in the comments below so we can check out your recommendations! Feel free to copy and paste our Fabulou5 graphic or create one of your own.
Okay, here's my top MG of 2016!
I love MG fiction and have started reading it a lot more this year. I still have a large backlog to get through but here are my favourites of 2016 so far!
Erica's Elephant by Sylvia Bishop
This is one of the most cute and magical books that I've read this year. It has incredible illustrations to go along with it and the story is just so sweet and imaginative. I am so sure that a lot of children will eat this story up as it is just so wonderful!
Perijee & Me by Ross Montgomery
Yet another cute MG story! This book is about a girl who befriends an alien but it doesn't quite go to plan. It is enthralling, powerful and has a wonderful protagonist at the centre too. It's also quite emotional too. I am positive that this will be devoured by children!
How To Look for a Lost Dog by Anne M. Martin
There are not enough words to describe how much I absolutely adore this book. It is about a girl with high-functioning autism and it is an incredible read. It is a wonderful book to explain autism to children as well as just having a lovely story at the centre of it about a girl trying to find her dog after a bad storm. A story of hope, love and acceptance.
Girl with a White Dog by Anne Booth
As above, not enough words to explain how amazing this book is. About a girl whose Gran gets a lovely white dog and how that sets off a chain of events that link the story to WW2. It's an uplifting but sad story that is full of emotions, and hope. It is just an educational story that I think a lot of children should read and are also likely to love.
Squishy McFluff: Seaside Rescue by Pip Jones
This is a cute, fun and playful MG that I read quickly and just enjoyed from start to finish. Squishy McFluff is an invisible cat and in this book, they go to the seaside. It was a really lovely story that is full of spirit and will thrill any animal lover from start to finish – especially those that love a little bit of mischief too!
Posted by Faye