Jackie Marchant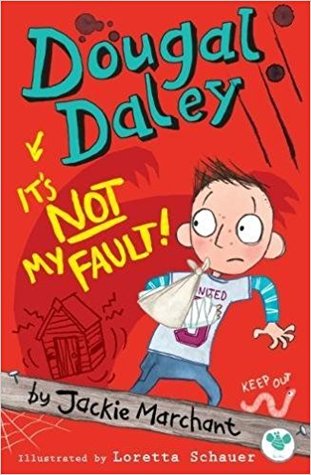 I, Dougal Daley, am dead! Ok I m not actually dead. But if I m not careful I soon will be.

In this first book, football-loving Dougal Daley finds himself at risk from the mysterious creature living in the garden shed. Nobody believes him but as a precaution, he sets upon writing his will – rewarding those who help him and disinheriting those who get on his bad side. Meanwhile, as limbs and windows alike are broken by rogue footballs and unhinged canines, Dougal finds himself in all sorts of trouble. . .and NONE of it is his fault!
What were your initial thoughts on the book?
I read this book in one sitting. It was funny, addictive and emotional too. I really felt for Dougal throughout the story. The whole narrative worked really well and I am one hundred percent sure that any kid who reads this book will also agree. From parents and sisters who don't listen to you and blame you, to friends who get caught in the middle of things, this book is full of real-life situations surrounding a very hilarious thing. I loved the ending of the book too. This whole book is full of personality and I cannot wait to read the next one!
Who was your favourite character and why?
The best character is actually one that I can't really talk about without completely and utterly ruining the story – I know, right? – So instead I will talk about my second favourite character; Dougal. He's a really interesting character to read about. A true klutz who has a great voice too. I am definitely intrigued to see what happens to him in future books!
Would you recommend this book?
Definitely! Especially to any kid aged between 6 to 10 as they'll really enjoy everything that happens. The book is written in a diary format with a few chapters that are notes from other characters all intermingled with amazing illustrations which really helps to make this book readable, addictive and fun – everything that books for children should be! If you or your child is looking for a fun and funny book that is similar to the Wimpy Kid books, make sure you give this book a try!
One Sentence Summary (verdict)
A really fun and kid friendly book that has a brilliant main character and a story that is full of personality and creativity.
Reviewed by Faye
We are delighted to welcome Olaf Falafel as he talks about the inspiration behind his book Old MacDonald Heard a Parp

"Old Macdonald heard a parp…E-I-E-I-O!"
There are some VERY rude noises coming from Old Macdonald's farm – who could be responsible?! Sing along to this side-splitting picture book adaptation of everyone's favourite nursery rhyme.
Old Macdonald's busy day on the farm keeps getting interrupted by some VERY rude noises … but who could they be coming from?! A hilarious and irreverent take on the classic nursery song from debut author/illustrator, Olaf Falafel, with helpful do-it-yourself instructions so you can parp along to your heart's content!
What inspired you to write a children's book?
The idea for Old MacDonald heard a Parp came to me when I was trying to coming up with ideas for child friendly stand up (I quite often gig for Comedy Club 4 Kids). I started singing it to my kids on the way to school and we did all the different noises, before long it had spread round the playground. When the dinner ladies started telling the kids off for singing it I knew it had potential.
You had a pretty whirlwind experience when it came to getting published – how did it all happen and what was the most surreal moment looking back?
Basically, I'm an illustrator during the day and a comedian in the evenings. I had some spare time due to an illustration job falling through at the last minute so I saw it as the ideal opportunity to draw some of Old MacDonald.
I drew a front cover and the first three or four pages of the book and then it got to the point where I started thinking about what I was going to do with the book when it was finished.
This was when I put out the tweet asking if any publishers were interested along with the drawings that I'd already done to give an idea of what the book would look like. Then twitter went a bit crazy for 24 hours, there were loads of great people who retweeted the idea, loads who private messaged me contacts in the publishing world and loads who wrote lovely comments saying they'd buy the book if it ever got made.
I had eight different agents contact me asking to meet up and I ended up getting direct interest from several publishers, including Harper Collins.
Within four days, I had a literary agent (the wonderful Jo Unwin) and a deal with Harper Collins to produce Old MacDonald plus two follow up books. The whole thing felt surreal.
Which books do you remember most fondly from your own childhood?
I read a lot of comics as a child, I really liked The Beano, most of the characters were naughty kids which appealed to me. I later graduated onto Viz comic which isn't at all child friendly but it must have had an influence on me as Old MacDonald Heard A Fart was describe as 'Viz for toddlers' by one of the first standups who saw it.
Who is your favourite literary character and why?
I've always had a soft spot for Winnie The Pooh – it sounds completely out of character for me but that tubby bear made a lot of sense.
How important do you think comedy is for children, and can you ever be too young for a good joke?
For me it's the other way around – children are important for comedy. My two are a constant source of inspiration for funny thoughts that I have turned into stand up comedy. A lot of the stuff they come out with doesn't make a lot of sense but can be ridiculously funny.
I understand that you do stand-up for children – how do they differ as an audience from adults?
They have no 'socially acceptable behaviour filter' so they quite often say whatever they are thinking whenever they feel like saying it. In a lot of ways, performing to kids is a lot like performing to drunk adults (including the likelihood of being vomited on)
What does the future have in store for Old MacDonald and his parping menagerie?
I'm currently working on the second book, Father Christmas Heard A Parp, which is going to be even better than the first book with some great new characters, new ways of making parp noises plus a great new twist at the end. I've also got an idea for the third instalment of the 'parp trilogy' currently percolating through my brain – fun farty times ahead!
Picture book sensation and stand-up comedian Olaf Falafel burst onto the scene in 2017 when he posted a call-out to publish his his hilarious debut, Old Macdonald Heard a Parp, on Twitter.
Olaf lives and works in London with his wife and two children, who are his biggest fans.