Jackie Marchant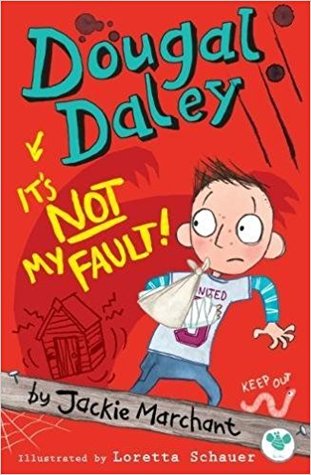 I, Dougal Daley, am dead! Ok I m not actually dead. But if I m not careful I soon will be.

In this first book, football-loving Dougal Daley finds himself at risk from the mysterious creature living in the garden shed. Nobody believes him but as a precaution, he sets upon writing his will – rewarding those who help him and disinheriting those who get on his bad side. Meanwhile, as limbs and windows alike are broken by rogue footballs and unhinged canines, Dougal finds himself in all sorts of trouble. . .and NONE of it is his fault!
What were your initial thoughts on the book?
I read this book in one sitting. It was funny, addictive and emotional too. I really felt for Dougal throughout the story. The whole narrative worked really well and I am one hundred percent sure that any kid who reads this book will also agree. From parents and sisters who don't listen to you and blame you, to friends who get caught in the middle of things, this book is full of real-life situations surrounding a very hilarious thing. I loved the ending of the book too. This whole book is full of personality and I cannot wait to read the next one!
Who was your favourite character and why?
The best character is actually one that I can't really talk about without completely and utterly ruining the story – I know, right? – So instead I will talk about my second favourite character; Dougal. He's a really interesting character to read about. A true klutz who has a great voice too. I am definitely intrigued to see what happens to him in future books!
Would you recommend this book?
Definitely! Especially to any kid aged between 6 to 10 as they'll really enjoy everything that happens. The book is written in a diary format with a few chapters that are notes from other characters all intermingled with amazing illustrations which really helps to make this book readable, addictive and fun – everything that books for children should be! If you or your child is looking for a fun and funny book that is similar to the Wimpy Kid books, make sure you give this book a try!
One Sentence Summary (verdict)
A really fun and kid friendly book that has a brilliant main character and a story that is full of personality and creativity.
Reviewed by Faye
Cerrie Burnell


Total fantasy bliss! Magical birds, dark forests and fairytale cities: there's no better book to get lost in. Harper is on a mission! Rumours tell of the mysterious Ice Raven who lives among the ebony trees, singing a magical song that can melt hardened hearts. Now the Wild Conductor wants to capture this mythical bird and create the greatest orchestra ever known. So Harper and her friends set off to find the bird. Their journey takes them from the mysterious Night Forest to the City of Singing Clocks. But soon Harper realises she faces a dilemma. Should a wild, free creature like the Ice Raven ever be tied down?
What were your initial thoughts on the book?
This book is one of those lovely, cute and entertaining reads that I absolutely wish that I had as a child. Harper and the Night Forest is the third book in the Harper series but it was by far my favourite one. Cerrie Burnell's imagination knows no bounds and I really loved reading about Harper and her friends on their journey into the Night Forest. It was not what I was expecting and I found that to make the book even more interesting to read. I loved the fairy tale aspect and how it all came together in the end. Along with the wonderful story, came the beautiful illustrations by Laura Ellen Anderson. These really brought the story to life in a magnificent way. A truly perfect match between words and pictures.
Who was your favourite character and why?
While I am sure most people would probably choose Harper, I think that my favourite character is actually Nate. He is such a fascinating character and I think it is wonderful to find someone with a sight impairment in a children's book. Nate can only see shadows and because of it he has a companion wolf who helps to guide him. It means that he can never see the expressions on his friends faces but he can feel when they're happy or sad. He knows who is near by how they walk and he is excellent at leading his friends when it is dark as it is always dark for him. I really, really loved him as a character and would love to read more.
But really one of the best things about these books are that all of the characters are so vibrant and all work together as a team. Including the "villain" of the books. By the end of each adventure he is always shown why his ideas aren't so great after all. I think that Cerrie has down a smashing job of creating realistic and likeable characters in all of the Harper books.
Would you recommend this book?
Definitely. These books are magical, and quite literally full of magic. They're lovely stories. They have heart and emotion and a wondrous childish feel to them. I am certain that both adults and children alike will be blown away by both the adventures that the children go on and also the characters and how they all react. Cerrie has truly created an interesting world for these books to take place in and I just cannot recommend them all highly enough. If you haven't yet read these books, what are you waiting for?
Summarize the book in one sentence. (Verdict)
Harper and the Night Forest is a splendid book that will steal your heart and fill you with hope all at the same time. It is magical, cute and full of adventure and fun too.
Reviewed by Faye
Ally Kennen


Eleven year old Olly has a very special delivery – a 3D printing machine, stamped with PROPERTY OF M.O.D and BRITISH SPACE AGENCY. WARNING. DO NOT TAMPER, which has magical powers… It has a name, it speaks, and it can print ANYTHING Olly asks it to – the coolest new toy, a room full of chocolate cake – but what Olly really wants is… his dad.
If you had to describe your book on twitter (140 characters), how would you?
Kids get access to super billion pound 3D printer. They print sweets and a swimming pool then a replica of their Dad. Things go very wrong!
What gave you the inspiration for this book?
I was reading a science magazine article about 3D printers. I was thinking about all the amazing things we can make now, from musical instruments to food to car parts. I started thinking about what we will be printing in ten or twenty years time, and so invented a machine that could print Anything and Everything.
Do you have any habits when you write? (i.e. have to have coffee/listen to music)
I just need to become invisible, for an hour or two so that my family don't require my services! (I have 4 children) and maybe not too much howling in the background. I write on my laptop anywhere they can't see me!
What would you create if you could create anything?
I LIKE this question. I'll create an invisibility machine ha ha, and then a hovering machine, so I can fly around, but not too high because I'm not wild about heights. I'd create a slug-singer, which lures slugs away from my realm. I'd create a portable light beam-machine, which, when you switch on, it colours the wi-fi and mobile signal hotspots, and makes them visible so you could step into them (and out of them) and communicate as needed. (In my rural home phone signals and wi-fi are like rare wildlife. You know they are there but they are intermittent) I could be here all day on this question so will stop here…
What is your favourite children's book?
You can't ask me that! I don't have one, I have many. And my favourite children's books now are different to when I was a child, or teen. But when I was little I loved Enid Blyton, Roald Dahl and Susan Cooper (The Dark is Rising) I loved The Secret Garden by Frances Hodgson Burnett, When I was a bit older I loved Margaret Mahy's The Changeover, now I am reading to my own children I love 'The Pencil' by Allan Ahlberg, and I remember being blown away by Skellig by David Almond, in my twenties. There are so many brilliant children's books around now it is impossible to choose.
Who is your favourite author ever?
Again, I don't have one. Some days a favourite just won't do and someone completely different is the winner. I love the twisted, dark and crazed imaginative world of the Gormenghast books by Melvyn Peake, I am also a die-hard fan of Jilly Cooper. I love Robert Harris's thrillers. I also just read 'Elizabeth and her German Garden,' by Elizabeth von Arnim, which was a breath of fresh air even though it was first published over a hundred years ago. I also just read 'Skinny Dip' by Carl Hiaasen, which was irreverent, wicked, rude and funny. I must try and read some more of his books.
What would you say to a child who wants to be an author when they grow up?
Read, read, read, fill your mind with words and stories. Read comics and newspapers and cereal packets as well as books. If you find reading difficult, listen to audiobooks. Nag your parents to buy you books and comics. Join the library and use it. Be nosey about people. Notice interesting things about them, be it the way they spit when they say 'Thank-you,' or the shaved eyebrows, or the eye-watering perfume, or the skull earrings, or the deep etched frown-wrinkles. Look for the story in people. Boredom is also very important if you want to be creative. Give yourself time between activities to get so bored you start inventing things. Boredom is a portal to creativity.
Are you working on another book? If you are, can you tell us anything about it?
Two of my sons have become obsessed with football. The eldest, who is nine, most of all. I have had to immerse myself in this world. It has been a steep learning curve. Usually when I think a lot about something I end up writing about it, and so, I have nearly finished the first draft of a football book, about a kid's team. My son is my test reader and keeps me in check with correct terminology and makes sure I don't veer away too much from the action. It's called 'The Flyers.'

Ally Kennen has been an archaeologist, museum guard and singer-songwriter. Her dark and thrilling teen novels have been nominated for over eleven literary awards. She lives in Somerset with her husband and four children.
Questions By Faye
Laura Wood


From the Winner of the Scholastic Montegrappa Prize for New Children's Writing It's Halloween at Saint Smithen's. When the Brimwell town hall burns down, the amateur production of Macbeth is moved to the school and it's all hands on deck. But when the play is struck by a series of mysterious attacks, it's up to Poppy, her friends and her circus family to save the play and unmask the culprit.
Five Reasons to Read this Series
Poppy Pym
All I can really say about Poppy is that she is an incredible character that I really love. She's got an amazing spirit, she's quirky and interesting and the kind of girl that I would have loved to have been friends with at eleven. She is a brilliant character to read about and definitely makes the series great fun to read!
Ingrid & Kip
Poppy's new-found friends at boarding school, these two characters help form a strong trio in the books that is wonderful to read about. It helps show how amazing and powerful friendship can be and also how important it is too. I love Ingrid's dreamy personality and Kip's love of adventure. They definitely make this series more interesting.
The Circus Family
One of the main things I absolutely loved about Poppy Pym was the circus family. They all have unique personalities and as a whole make a very dysfunctional family unit but their love for Poppy is incredibly strong. I also love that this book shows adoption in a positive light whereas Poppy is very fortunate with all the love she gets from her adoptive circus family.
The Mystery
In both books in this series there is a mystery to be solved and I loved reading it through with Poppy as we try to work out what is going on. I'm a sucker for mystery books anyway but in Poppy Pym, the mysterious are so intriguing and really keep you glued to the page from beginning to end. I also love that there was also so much more to these stories than just the mysteries to be solved too!
The Writing Style
Lastly, but certainly not least, I absolutely fell in love with the writing style of these books. It was addictive and fun all at the same time. I devoured the words on the page quickly and fiercely. The writing really pulls you into Poppy's world and is full of quirky and interesting descriptions of the world as Poppy sees it. It's fun for both adults and children and I can really see children falling head over heels for these books!
Posted by Faye