Alan Windram (Author), Chloe Holwill-Hunter (Illustrator)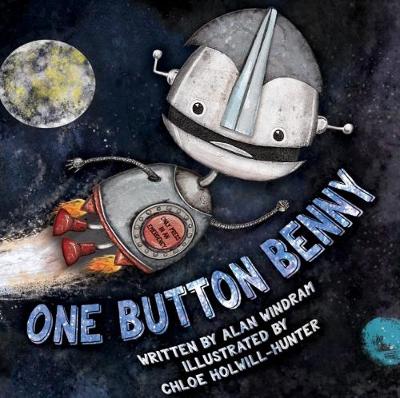 One Button Benny is a story about heroes and the unlikely places you find them. With strikingly beautiful retro-style illustrations by Chloe Holwill-Hunter. This colourful, fun tale for three-to six-year-olds, sees loveable robot Benny becoming a surprising hero when the hairy, scary collectors try to take over his planet.
Benny has always been different. An outcast. He can't do the cool things that all of his robot friends can do. All he has is one button that he is not allowed to use except in an EMERGENCY. He doesn't know what it does. But all of his friends can do amazing things with THEIR buttons. Thus they tease Benny a lot and treat him differently, often poking fun at how boring he is. I felt very sorry for Benny but I loved that he still tried to find ways of using his emergency only button within the book.
But then a REAL emergency happens and while all the other robots flee, Benny finally gets to press his button! And it is the coolest button of ALL the robots. Within moments the robots all apologise and all decide that they want to be Benny's friend and Benny feels welcome and happy. He's not just ordinary after all, he's EXTRA-ordinary.
This book had a very "ugly duckling" feel to it but I did not mind this at all as I just really loved the book. I loved the way the words were easy to say out loud, I loved all of the amazing illustrations by the ever talented Chloe Holwill-Hunter and how they related so well to the story as well. I loved how all of the robots looked different from each other and were all really unique and yet how despite that it still managed to reflect our world really well.
Verdict: A very entertaining, fun and quick read that celebrates diversity and being a little bit different.
Reviewed by Faye